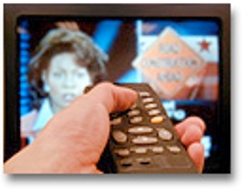 Live at 5 is dead in Miami. It was killed off temporarily in New York, too. The NBC-owned stations in both markets took the unusual step of scrapping their long-running 5 p.m. newscasts last fall and replacing them with syndicated programs. But WNBC and WTVJ didn't give up on local news. They moved it to where they hope more viewers will find it — at 7 p.m., after the network news.
Local news at 7 is not an entirely new idea. WIS in Columbia, South Carolina, has been doing it successfully since 1963, but for decades no one else saw a need to follow suit. Now they do. Viewership for local news, especially in the early evening, has been declining for years. Nielsen figures obtained by the Project for Excellence in Journalism show that ratings for evening newscasts during sweeps periods in 2006 were down an average of 5 percent from the year before.
Stations are looking everywhere to find a new audience for local news, from the Internet to cell phones to outdoor screens at gas stations. But they're also trying desperately to keep their core broadcast business alive, especially since many have just spent millions to convert to digital transmission. Time-shifting is their latest strategy. "It's a reflection of lifestyle changes," says Allan Horlick, president and general manager of Gannett-owned WUSA-TV in Washington, D.C., which added a 7 p.m. newscast in 2003. With more women in the workforce and more people commuting longer distances at later times, the audience that used to be home to watch the early evening news just isn't around.
But if viewership in general is dropping, what sense does it make to add more news? "Economically, it makes all the sense in the world," says Bruce Kirk, news director at WINK-TV in Fort Myers, Florida, which added a 7 p.m. newscast in January. "A station can make more money doing local news than paying big bucks for syndicated programs." That's because it takes only a couple of additional staffers for a station like WINK to produce another half hour of news, and it gets to keep all of the revenue.
On top of that, a later newscast is expected to get "better demos" in the form of younger, more affluent viewers. "Let's face it; people getting home exactly at 5 are punching a clock," Gordon Borrell, who tracks local TV advertising, told Broadcasting & Cable magazine. "People who are working later are working white collar jobs."
With that in mind, the newscasts these stations are airing at 7 are substantially different from what they put on the air at 5. The earlier newscasts try to appeal to women with lots of soft features, health and consumer news. At 7, most stations are putting on fast-paced, local news-of-the-day programs. "We target the news to people who are working professionals, coming in and turning on the TV, saying 'Catch me up on what happened,'" says WUSA's Horlick.
At WTVJ in Miami, News Director Yvette Miley believes viewers are getting a more substantial, locally focused newscast at 7 than they got at 5. "We don't repeat stories as we used to from 5 p.m. to 6 p.m." At 5, stories were often still developing. Now, she says, "You have more time to pursue a story and the content is better because of it."
Time shifting isn't the answer for all local stations. A month ago, WNBC in New York revived its 5 p.m. newscast while keeping the new 7 p.m. program. "We tried something different but found that the available audience had a habit for news at 5 p.m., and we're going to serve that need," News Director Dan Forman told New York's Daily News. Other stations have decided it's too expensive to produce their own local news, so they're cutting back. The president of two stations in central Pennsylvania, Frank Quitoni, told the Centre Daily Times that his stations' nightly newscasts lost millions over the past 10 years. His Fox station now carries a 10 p.m. newscast produced by the competing NBC station. His ABC affiliate simulcasts NBC's news at 11. In Fargo, North Dakota, the NBC and CBS stations have different early evening newscasts, but they simulcast other newscasts.
There's no sign yet that news at 7 is the magic bullet stations have been looking for to rebuild their local news audience. "It's not on a rocket, but it's growing," says Horlick of the viewership for WUSA's "9News Now Tonight."
"We're not beating the game shows [on the competing stations], but that's not why we're doing it," says WTVJ's Miley. "Ratings are up over all past programming in that time period." That may not be saying much, but it's movement in the right direction.
WVLT-TV in Knoxville, Tennessee, launched a 7 p.m. newscast seven years ago. For the first two years, it drew less than 2 percent of the potential audience. But it's grown steadily, helping the station triple its cumulative ratings for news in all time slots, according to Vice President for News Steve Crabtree. "I see it as being a key to survival," he says.
"We started doing 6 and 11 p.m. newscasts when 'Leave It to Beaver' was the top sitcom on television," says Crabtree. "We have failed to evolve. To sit idly by and continue to do newscasts at 6 and 11 in the hope of making it appointment viewing is borderline delusional."
This article originally appeared in American Journalism Review, February-March, 2008