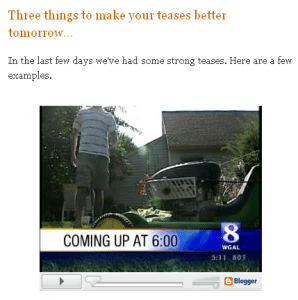 Ask a roomful of journalists if they get enough feedback on their work and you'll rarely see any hands go up. Managers typically say they want to offer more but there's never enough time. And in a short-staffed, overworked newsroom, pulling people together for a group critique session is almost impossible.
So WGAL-TV news director Dan O'Donnell came up with an online alternative. He created a password-protected blog, where he posts daily video highlights along with specific comments about what works and what doesn't.
It looks labor intensive, but O'Donnell says it only takes him about 30 minutes a day. He picks out clips and uploads them during the morning meeting using Anystream, the tool the station already uses to grab video for Web posting. Once the clips are online, he adds comments and encourages the staff to chime in.
It's been a more powerful tool than I imagined.  I'm able to influence our product more quickly than before.  It also gives us a common language to talk about goals and strategy.  The feedback from staff has been all positive.
When he plans to highlight good work, O'Donnell asks the people involved to send him a description of how they did it so he can include that in the post. He's also used the blog to showcase several good examples at once, letting the staff choose the best one and rewarding the winners with gift cards.
As with all good ideas, this one already has been imitated. WGAL's chief photographer recently launched his own online forum to share shooting and editing tips with the rest of the staff.
For more tips on giving feedback, check out this chapter [PDF] from Ready, Set, Lead! The Resource Guide for News Managers. We'd love to share your strategies, too, so feel free to add a comment.