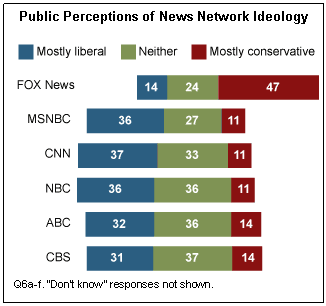 At first glance, the results of a new survey appear to simply state the obvious. Viewers see Fox News as more ideological than other television networks, according to the Pew Research Center.
Almost half the respondents described Fox as mostly conservative, compared to about a third of viewers who see the rest of the networks–all of them–as mostly liberal. MSNBC is seen as more ideological than the others, however, with only a quarter of viewers saying it plays things down the middle, compared to a third or more for the other networks.
Well, duh, says CBS's Charles Cooper. None of this is terribly surprising, unless you're one of those people who thinks viewers can't tell the difference between news and opinion. They certainly can. Regular Fox viewers know what they're watching–just as many of them call the network conservative as do MSNBC viewers.
As Time Magazine's James Poniewozik points out, Fox viewers don't see the TV news world that differently from anyone else except in one area.
Where Fox viewers seem to diverge most from everyone else is in their belief that any news network is unbiased—their own or the competition. They give the lowest marks for neutrality generally, ranging from 23% to 31%. However, they must think that Fox—the "fair and balanced" network—is the most evenhanded, right? Nope. They give that honor to CBS News, followed by ABC and NBC.
Here's another similarity between cable news audiences. About half of Fox viewers say it's a good thing for cable news hosts to have strong opinions about politics, and they're not the only ones. Almost as many CNN and MSNBC viewers (about 45%) think it's a good thing, too.
We can debate whether it's good for democracy to have people get most of their news from opinionated sources they agree with. But is that really why they're watching these channels? Maybe not.
When Innerscope Research looked at how viewers responded to both traditional news and pundit news they found something interesting. The study, in partnership with the International Film Channel, discovered that pundit news was more engaging–even for viewers who didn't agree at all with what they were watching.
Okay, comparing O'Reilly and Olbermann to the NewsHour on PBS may not have been entirely fair. But it's worth considering whether viewers are choosing opinionated news at least in part because it's more entertaining and not just because it suits their own biases.