By now, it's not news to anyone that the network news divisions are fighting for survival. Ratings are stagnant or declining, advertising is down, the effects of the recession linger. So last month, CBS let go or reassigned dozens of veteran journalists. This month, ABC announced a massive restructuring; plans call for cutting the news staff by 25% through buyouts or layoffs. More than 300 people stand to lose their jobs.
It's painful to see talented, dedicated professionals kicked to the curb. I can't quite imagine CBS News without Larry Doyle or Roberta Hollander or Jill Rosenbaum, all of whom I worked with and admired in my days at the network. But it's not the first time CBS has forced out long-time (read that "well-paid") producers or correspondents. After Larry Tisch bought the company in 1986, there was a bloodbath of epic proportions. As the Museum of Broadcast Communications puts it:
To no one's surprise, Tisch restructured the company into a "lean and mean" operation. Within months, he had launched the biggest single staff and budget reduction in network TV history. When the dust had settled, hundreds had lost their long secure jobs, news bureaus had been shuttered, and CBS was but a shell of its former self.
And that was well before the digital revolution made it possible for one person to the work of two or three–reporting, shooting and editing television news stories. There was no suggestion then that the cuts were about anything but saving  money.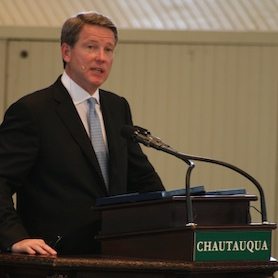 But ABC president David Westin told the Los Angeles Times that the network's plan to replace half its bureau correspondents with "digital journalists" who can do it all is really about doing better journalism.
"This is a way to maintain or enhance our editorial footprint and get to the stories that are really important, and in some cases, do it in a more compelling way," he said. "In my heart of hearts, this is really about the journalism, not the money."
That sticks in the craw of some journalists, who can't help but be reminded of that old saw sometimes attributed to football executive George Young: "When they say it's not about money, it's always about money…" Former ABC producer Lynne Adrine was blunt in a Facebook post:
Everyone who's talked to me knows I've been talking for years about the sea change in all aspects of journalism and newsgathering. And I'd never argue against the ways technology has freed us to get stories that may have eluded us before. But to put forth the idea that ALL stories can be fairly and accurately done with only one set of eyes is just pure BS. Don't pee in our ears and tell us it's raining.
There's no debating the financial trouble CBS and ABC are in. Even if they weren't paying their anchors multimillion dollar salaries, the outlook would still be bleak. At NBC-Universal, cable properties have helped to cushion the blow and a future merger with Comcast could provide more financial support. But let's not forget that NBC joined the Journalism 2.0 world a couple of years ago, adding multimedia journalists and dropping veterans by offering multiple rounds of buy-outs–the latest at the end of 2009.
So yes, it's probably time that ABC realized it has to get leaner and take advantage of the cost-savings inherent in moving to the digital journalism model. ABC has to restructure or face the possibility of extinction, as Ken Auletta told Marketwatch's Jon Friedman. But let's be honest. It really is about the money.