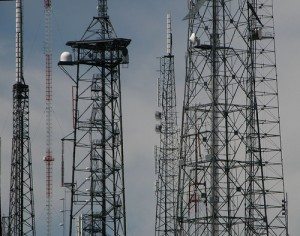 Are the days of dominant No.1 news stations over and done? Not quite. But the headlines from this year's February sweeps period do make you wonder. When former powerhouses struggle and former rivals are neck-and-neck, have we entered a new era of local news?
Let's start with Salt Lake City, where KSL used to own the market, drawing more viewers at 10 p.m. than the other two stations combined. In February, the NBC affiliate was a distant second to CBS affiliate KUTV, and also trailed in the early morning, at noon and at 5 p.m., while eking out a slim lead at 6.
In Denver, NBC affiliate KUSA used to own the market, but no longer. While still number 1, the station's 10 p.m. newscast leads CBS station KCNC by just 6,000 households.
In Dallas, one-time market king WFAA, which started to slide years ago, had one of its worst books ever without a single win in any time period.  The ABC affiliate was second by the widest margin ever to CBS station KTVT in total viewers at 10 p.m., although the demo race was considerably tighter. And in Baltimore, the new news leader is CBS station WJZ, which trumped long-time ratings winner WBAL, the NBC affiliate, for the second straight book.
Yes, I realize that all of the winners or gainers I've mentioned so far are CBS affiliates, and there's no question that the network's dominance in prime time helps its local stations, especially in the late news. Exhibit A: WKMG in Orlando, which won at 11 p.m. but lost every other time slot.
The fact that once-dominant stations are no longer on top doesn't necessarily mean there's a new big boss in town. In many of these markets, the ratings race is as tight as can be. In Providence, the NBC and CBS affiliates are neck-and-neck at 11. In Tampa, the late news numbers are equally tight between the NBC and Fox affiliates. And in Milwaukee, the late news race "has never been more competitive" between the ABC and NBC stations. Even in Washington, D.C., where longtime ratings leader WRC held on to first in the mornings and early evenings, the NBC station lost the 11 p.m. battle in February to Fox station WTTG.
There's always the exception that proves the rule, of course, and for that we need look no farther than Chicago, where the ABC station went from worst to first 25 years ago and remains on top today. But where are the other dominant No. 1 stations in other major markets? And if only a few survive, does that indicate a real sea change in the audience for local news or simply a new reality when it comes to measuring that audience using meters instead of diaries?
Frankly, I'm not sure what it all means but I thought it was worth noting and I welcome your thoughts.