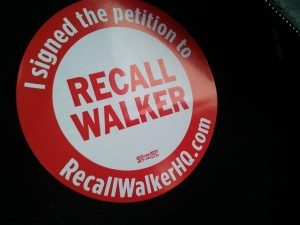 More than 30 journalists in Wisconsin were discovered this week to have signed petitions for the recall of the state's controversial Republican governor, Scott Walker.  The first news organization to publicly disclose its employees' involvement was Gannett, whose newspapers published a letter to readers noting this "breach of Gannett's principles of ethical conduct" and promising disciplinary action.
The papers did not publish the names of the signers because, they said, the employees had no direct connection to political reporting. Even so, what were they thinking?
A number of the journalists told their editors that they did not consider signing the petition a political act. They equated it to casting a ballot in an election. But we do not make that distinction.
There is, in fact, a distinction to be made. Voting is still done by secret ballot. Petitions become part of an online, searchable public file, which is how the Gannett papers happened to discover that 29 circuit court judges in Wisconsin also signed the petitions. That story that made quite a splash in the chain's papers statewide, only to be followed by Gannett's admission that its own employees had also signed.
But Gannett isn't the only news organization involved. Morning TV anchor Rob Starbuck of CBS affiliate WISC also signed, along with another station employee who doesn't work in the newsroom. As a result, news director Colin Benedict "directed that [Starbuck] not participate in any interviews related to the recall elections."
At the Wisconsin State Journal, owned by Lee Enterprises, six employees were found to have signed. Only one is involved in news coverage, chief photographer Steve Apps. The paper apologized for their "lapse in judgment," and said disciplinary action is being considered based on the company's ethics policy, part of which states:
Participation in public affairs or events that may leave the impression that news judgment is being influenced by activism is prohibited.
What's at stake? How about the credibility of the news organization? Or is that too old-school? Columnist Jack Shafer thinks so. In a column entitled "Free the Gannett 25," Shafer writes:
In a just and utopian world, news organizations would permit modest political activism by journalists – campaign contributions, placards on their lawns, bumper stickers on their cars, attendance at rallies, even the signing of recall petitions, etc. – as long as the journalists were willing to declare it.
Journalists are human beings who hold political views and act on them, Shafer says. On that point, we agree. I've never subscribed to the Len Downie approach of refusing to vote at all in order to keep an open mind. But there's a difference between journalists holding views privately as individuals, and announcing them publicly via a yard sign or a signature on a petition.
Sure, you can argue, as some have, that there's no harm done as long as no one who signed had anything to do with covering politics. But most readers and viewers probably don't make that fine a distinction. For many, this whole episode just confirms what they already think about the news media,  as reflected in this comment on a Wisconsin Gannett paper's website:
We all know where the liberals are, it's no big surprise. Just read how the news is written, notice the slant toward the left? It's not rocket science.
Yes, the public expression of political views is an American right. But it was a right I put on hold when I worked in a newsroom, and willingly so, in an effort to safeguard the public trust. As the Wisconsin editors' statement notes: "Journalists must have an intuitive understanding of these duties to their readers and to their industry, that override their personal interests."
So what were all these journalists thinking when the signed the petitions? Apparently, they weren't.